Long Coat Wooly
Out Of Coat
Double Coated Breeds
Coats may be medium or long in length, Dense consisting of two textures of hair, the outer or guard coat and the soft, downy undercoat. Double coated breeds do shed year round with increased shedding in the Spring and in the Fall. The two peak shedding seasons: Spring and Fall because the change in natural light triggers the release of undercoat as new growth begins. Females will blow their coats usually twice a year whereas a dog will hold his for most of a year and if carefully handled as he gets older for 18 months and longer. The older dogs tend to "roll" their coats . This means they are never really out of coat and can last as much as two years.

Routine and thorough brushing of your dog's coat is the most important step in maintenance grooming. Regular brushing reduces shedding, prevents matting, while enhancing skin and coat health. Remember, any hair that is loosened and removed in the basic grooming process is that much less hair that enters your environment! Your double-coated dog needs more attention than a simple surface grooming can provide. One word of caution: Do not shave your double-coated dog to "keep him cool for the summer." The hair that keeps the heat in, also keeps the heat out. It is not beneficial to the dog in any way could have long term effects. Dogs shed the excess, unneeded hair during the warmer months. Use a strong cattle dryer and blow out dead hair in the coat after bathing every week. This allows the coat to regenerate on a constant basis and prevents that awful felting and clumping one tends to see on some dogs. Looks awful as these breeds are definitely not "wash and wear". The weekly coat blowing also keeps the coat even without the horrid holes that occur when the dog is shedding. Your dog will stay neat and tidy .
BATH TIME -
- shampoo
- conditioner
- dry towels
- blower-dryer
- grooming table
- cotton for cleaning ears & eyes
- nails cutter
- metal comb
- pin-brush, soft
- straight scissors
Begin grooming your dog at an early age and he will become confident and easier to manage. Collect towel, shampoo, brush, cotton wool for ears . Fill a dish soap bottle with hand-hot water and the shampoo. Groom the dog on a grooming table or firm surface, covered with a piece of non-slip rubber, such as a car or bath mat. Brush out coat first , Use a fine mist spray before on every layer,so as not to break the coat . Wet the dog with hose . Squeeze soapy water/ shampoo over the dog, start from the rear and work forwards. Clean eyes and ears with small towel soaked in clean non soapy water. Towel head and back, this is a good opportunity to feel for lumps , Let him shake. Dry dog by using a strong cattle dryer , cool air only. Dry the coat forwards from the rear to the head Don't forget to carefully comb the underneath of the tail near the base. Comb and brush , for the short hair areas such as ears face and legs. Use a flea comb. It really fluffs these out. Choosing the appropriate tools and using them correctly will make your grooming session more efficient, effective and enjoyable Because of their special grooming needs, double-coated dogs may require some extra grooming tools to keep them looking their very best.

Blowing Coat ... ABOVE PHOTO, ( sheding) for the Summer. Malamutes "blow" their undercoats, that is, they shed their undercoats completely. It is a very intense shedding period that can last up to three weeks from start to finish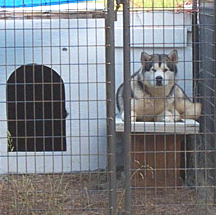 Training
Train your dog. Every dog should have basic manners, but dogs are not born knowing how to behave. Take the time to train your dog on a consistent basis using kind, positive methods. Find a class near you whose methods and philosophies you like. If faced with a behavior problem you can't solve, ask people you trust for a recommendation of an experienced trainer and get professional help fast. The sooner you begin working on a problem the sooner you will have it solved.
Understand your dog's genetic heritage. It is important to understand what your dog was bred to do. It is very important to remember that Alaskan Malamutes are a working breed. They need something to do. Putting them in the backyard and tossing them a bone and expecting them to be happy us a very bad idea. They need a lot of exercise and interaction to be happy. The exercise can come in the form of mushing, which is of course best, or can easily be in the form of frequent walks, hikes, and playing. The dog makes a wonderful hiking companion, and with a dog pack, can carry food and water. One final note: unless you are defending yourself or another person, or an animal, from attack, it is never, absolutely never, appropriate to hit, kick, throw or otherwise manhandle a dog. They have a very strong sense of what is and isn't fair, and they know that such behaviour is not fair. At best, they will lose respect for you; at worst, one or both of you will be injured. Owners often forget that the behavior that prompts a dog to run or stay close, hunt or guard, chase and kill or herd, work with people or work independently are all the result of generations of carefully selected traits. Research your breed's history, and talk to people who understand your breed's characteristics. You may find that Rover's tendencies, while annoying or amusing, are precisely what makes him what he is. You can then decide how best to work with your dog's instincts and where you need to concentrate training efforts. You must stay on top of the dog and maintain control, which is easier to do while the dog is of manageable size than with a stubborn adult that has been allowed to get away with undesirable behaviors for a long time. Malamutes are terrific dogs, but they have special needs when it comes to training. You can meet these needs very easily and humanely at an early age, or you can choose to neglect them and end up with an unmanageable, potentially aggressive dog, who nobody will want to live with. And because nobody will want the dog, he or she will stand an excellent chance of being euthanized. In order to train a mal successfully, you must understand what makes these magnificent animals tick. Along with being affectionate, playful companions, malamutes are intelligent, independent, stubborn, energetic and dominant creatures with a very highly developed sense of pack hierarchy. These traits were essential for survival in the harsh and unforgiving environment which mals first inhabited, and they continue to be the essence of malamute temperament. If you cherish and respect these characteristics, and are able to work with them in training your pet, you will end up with a malamute who is a pleasure to live with. If, however, you ignore your mals' special training needs, or have expectations which are simply not within a mal's capabilities, you and your pet will face failure. Establish rules of the house early, and make sure that the puppy knows that you are in charge. For example, if you do not want the dog on the bed as an adult, do not allow it as a puppy.At one time or another, every owner has to deal with problem behavior. Understanding why your dog does what he does, and how to handle the situation correctly can help resolve problems quickly. Here are some basic guidelines that apply to nearly all problem situations:

Control the dog and you control the situation. By putting on a training collar and lead, you can control the dog. For many dogs, their training equipment means business, not playtime, and this can help in a problem situation. A dog who is on lead cannot run away or chase people or other animals, and his owner has a chance to help him understand what he should do by guiding him with the leash and collar.
Be positive. Instead of saying "NO", try giving your dog something positive that he can do for you, such as "Sit", or "Heel". This positive approach means you can praise generously for his good actions, instead of simply yelling at him. For example, a dog who jumps up can be told to sit, and helped if necessary, then praised for sitting.
Allow a dog to be a dog. Often, what owners consider problem behavior is simply normal dog behavior that they find unpleasant or annoying. For example, digging is a natural canine activity but distressing to a garden proud owner. Instead of scolding for what comes naturally, it might be kinder to set up an area in which you have buried small treats to make it more attractive than the rest of the yard, and praising your dog for digging in "his" garden.
Whenever natural behaviors conflict with what you might like, be creative and see if you can find an outlet for those interests and activities that is suitable for you both.
Be consistent. It is unfair to the dog to change your rules depending on what you're wearing, who's visiting or the kind of day you've had. If your dog is allowed on the furniture, he will be confused when you yell at him because Aunt Bess is visiting and she doesn't think dogs should sit in chairs! If he's allowed to jump up when you're wearing jeans and a sweatshirt, don't be surprised if he can't tell the difference between that and your best evening gown. Whatever your rules are, keep them consistent.
Have your dog earn what he wants. While everyone needs a few freebies now and then, your dog will not think you are a wonderful owner if you play with him, walk him, feed him and pet him whenever he demands it. In fact, this often creates problems since from the dog's point of view an owner who can be "trained" this well is not one who deserves much respect. Teach your dog to say "please" by sitting, laying down or following some other command before he gets what he wants.
Be clear. Owners often confuse dogs by changing the words or commands, repeating them over and over again without showing the dog what is meant, and worst of all, assuming that the dog understands. When in doubt, gently show your dog physically exactly what you mean, giving the command at the same time so that he can associate the two. Use clear, matter of fact commands when addressing your dog, and be sure that your praising tone is excited, enthusiastic and upbeat. Remember that while we use words to communicate, dogs are masters of reading body language. If your body language tells the dog one thing, but your voice tells the dog something else, chances are he will believe your body language. This is why people who bend towards their dog and shake a finger at them while scolding "No, no, no" often receive a playful bark - their body posture is much more like a dog inviting play than a dog who is annoyed or angry.
Exercise, exercise, exercise! The most common cause of problem behavior is boredom and a lack of sufficient exercise. While you work or go out, your dog has little or nothing to do, and his need to exercise will not go away. A familiar yard or house is boring, and few dogs exercise on their own without interaction with their owners. Take the time to play with your dog, jog with him, walk in the woods, swim or take long brisk walks each day. A tired dog is always a well behaved dog!
Provide mental stimulation. Dr. Roger Abrante's suggestions regarding using 1/3 of your dog's diet for treats to be earned during training, 1/3 to be given as usual in a food bowl, and 1/3 to be "hunted" (try a Buster Cube, an ingenious toy which the dog must persistently work with to receive a few kibble at a time. Even a border collie will be amused by this for hours! Buster Cubes are available from your local pet store or from DogWise.com.) This "home alone" 1/3-1/3-1/3 program helps your dog expend some energy and provides much needed stimulation.