At KalaMals our litters are whelped in our home and are raised "underfoot" until they are ready to go to their new homes at 8-12 weeks of age. All puppies are started on basic obedience, crate-training and housebreaking. We stress proper socialization and training at an early age. Every puppy is sold on a AKC non-breeding agreement. Each puppy will be sent home with an inclusive puppy package with parent's pedigrees, training/grooming tips, and information about your puppy. After filling out our questionnaire you will be kept up to date with our current litters and future plans.. When a breeding is confirmed you will be contacted in regards to our litter waiting list. When puppies are born they are then sold by reservation and held only with a deposit. If you have a reservation on a puppy and you change your mind, the deposit is non-refundable as potential puppy buyers may have been turned away. The reason for the deposit is it lets me know you are truly interested and commited to a puppy, If for whatever reason I do not have a puppy available I will refund your deposit. Puppies are chosen in the order in which the reservation with deposit is received, with show puppies being chosen first. All puppies are sold with a written sales contract which includes a lifetime of help, advice and assistance to all our puppy buyers!

A fenced yard is necessary , an underground fence will not work. with an Alaskan malamute. Invisible fencing is not going to keep animals, or other threats out of your yard. If your dog runs through the barrier in pursuit of a critter, he's going to get corrected by that collar if he tries to get back.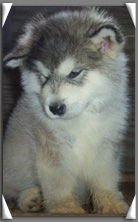 We are committed to helping preserve the Alaskan Malamute in a continuing effort to do everything possible to advocate responsible ownership and education, which create a strong foundation in the best interest of our canine companions. As ethical and responsible breeders, we believe it is our responsibility to maintain the unique breed characteristics and natural qualities of the breed. We strongly encourage and adhere to ethical breeding practices and strive for quality Alaskan Malamutes in health, structure, and temperament. Health screening of potential sires and dams and extensive pedigree research are utilized when making breeding decisions at KalaMals . If you are interested in an Alaskan malamute from us, we encourage you to complete our puppy placement application. Once your application and yard photos have been received and accepted we will place you on our waiting list. Once pregnancy has been confirmed we will then contact you by email to be placed in line for a puppy from said litter at which time you will be asked to sign and return a deposit agreement. Application link for our current litter.

Alaskan Malamutes are truly an incredible breed to be part of and to live with however they are not for everyone. They are loving and loyal family members who enjoy an interactive relationship with their human family. When considering adding a canine companion to your home, it is essential to research the breed and seek a responsible breeder that will help you evaluate the suitability of the breed for your home and lifestyle. Bringing a dog into your home is a lifelong commitment to its well-being. At Kalamals, it is not about mass-producing puppies, or finishing the largest number of champions. It is about breeding healthy, quality representatives of the breed and placing them in loving permanent homes. Our puppies/dogs excel in the show ring, but excel most as companions in the hearts and lives of the people who love them.
~Wonderful and loving family pet from Champion Bloodlines - $1200 with AKC limited registration.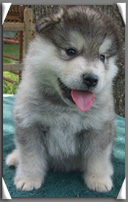 Occasionally we have older pups or adult Mals available for adoption. Sometimes we hold onto a pup till we can see if they are what we need for our breeding program. On occasion, an older adult will be placed into retirement home to live with a family to enjoy the spoiled life. It's not that we don't love them, it's that we love them so much we want to give them even more! Our dogs happiness is always our number one concern. Please send me an email if you are interested in adopting a retired dog or older pup. Older dogs will need a home with fenced yard and no cat. Thank you. We are always looking for that perfect person / home for some of our retired champions.
---
---